31.05.22 CScalp Release: dYdX and OKX

On May 31, 2022, the CScalp release was released. The main thing is that dYdX and OKX Margin have been added. Perpetual swaps and OKX futures are once again available for trading. They also increased the depth of Binance stakes to 700 lines.

Join the discussion of the release in our Telegram channel. We are waiting for your feedback, suggestions and critics! Read more about the release below.


dYdX in CScalp

dYdX is the first decentralized marketplace in CScalp. The exchange offers perpetual futures. The connection is called "dYdX: Perpetual"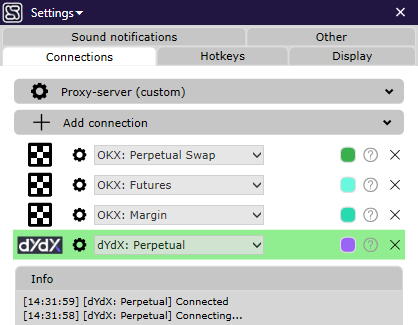 Trading on dYdX is implemented on Layer 2. Therefore, there is no commission to be paid on the Ethereum network for trades. Trade commissions of dYdX - maker 0.02%, ticker 0.05%.



Instructions on how to connect CScalp to dYdX here.



OKX
Open-ended swaps and futures OKX are available for trading again. We have also made "OKX: Margin" available.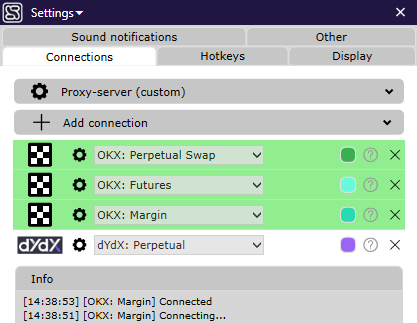 The OKX margin area has some features.


An open position is reduced by commission. For example, a trader buys one whole (1) asset. The exchange deducts the commission and the position in the orderbook opens at 0.99999.
The position can be closed only on the pair at which it is opened. Here is an example. The trader opened a position on ETHUSDT. He will not be able to close it on ETHBTC. If the wallet has free funds, it is possible to open a second position on ETHBTC.
The position is calculated only on the dispatcher version (D). You can switch between F, L and D, but the data will still be displayed by D.
Deals closed on OKX Margin are not displayed in the "Closed" tab. They are only displayed in the "All" tab.
There must be an underlying asset in the wallet. For example, in the ETHUSDT pair, the underlying asset is ETH. To trade this instrument, you must have ETH in your wallet.
Perpetual swaps and OKX futures are not affected by these features.
Binance depth of stakes

To update CScalp to the latest version:


Open launcher.
Launch CScalp platform.
The application will check for an update and propose to install it while launching. Agree. Apps will be updated automatically.

To update the launcher to the latest version:


Open the launcher.
Find and click on the "Update" button at the bottom of the launcher window. Wait for the update to complete.

Important! Before installing the update, you should close all applications.



If you notice any error, be sure to contact support.