If you're looking to convert Binance Coin to USD or cryptocurrencies, you're in the right place. In this guide, we'll explore various methods for swapping your
BNB
holdings, with a particular focus on two popular platforms: Binance Convert (for USD conversion) and MetaMask (for ETH conversion).
Choose the Platform to Swap Your BNBs
In this article, we are going to explore two popular platforms for converting BNB to other currencies: Binance Convert and MetaMask. We will delve into the details of each platform and discuss their advantages. In addition, we will provide step-by-step guides on how to convert BNB to USD using Binance Convert and how to exchange BNB to ETH using MetaMask.
Binance Convert Overview
Binance Convert is a user-friendly tool designed for cryptocurrency conversions. This platform allows you to buy or sell digital assets, bypassing the complexities of traditional trading interfaces. Here are some key highlights of Binance Convert:
Zero Fees: One of the standout benefits of Binance Convert is that it allows users to swap assets with zero fees.
Secured Rates: Binance Convert ensures that the rates you see during the conversion process are secured, even for large orders. This is in contrast to traditional Spot trading, where placing sizable orders can lead to significant market impacts and unexpected price changes.
Any Order Size: It supports both mini-orders and large orders, ensuring that you can efficiently execute your conversion regardless of the order size.
Wide Asset Selection: Binance Convert offers the flexibility to trade any coin for any other coin among the 350+ supported tokens.
Slippage-Free: Traditional exchanges may suffer from slippage, where trades are executed at prices different from what you expected due to low liquidity. Binance Convert eliminates this risk by providing ample liquidity, ensuring you get the exact rate you intended.
How to Convert BNB to USD via Binance Convert?
Converting your BNB to USD through Binance Convert is simple and efficient. Here's a step-by-step guide:
Log In: Access your Binance account and locate the "Convert & Block Trade" tab under the "Trade" section.
Choose Order Type: Decide between a market or limit order. Market orders execute at the current market rate, while limit orders allow you to set a specific rate.
Select Wallet and Tokens: Choose your desired wallet (Spot or Funding) and tokens, specifying the amount you wish to convert. The Balance feature can autofill your available balance. Select USDT under the "To" option and click on "Preview Conversion."
Review and Confirm: Verify the conversion details, including the received amount. If you're satisfied with the rate, confirm the transaction by clicking "Convert." Note that the quote may automatically update to reflect the latest market rate
Transaction Processing: Your transaction will process instantly, and the converted funds will appear in your designated wallet.
Check and Monitor: To view your converted tokens, navigate to "Wallet."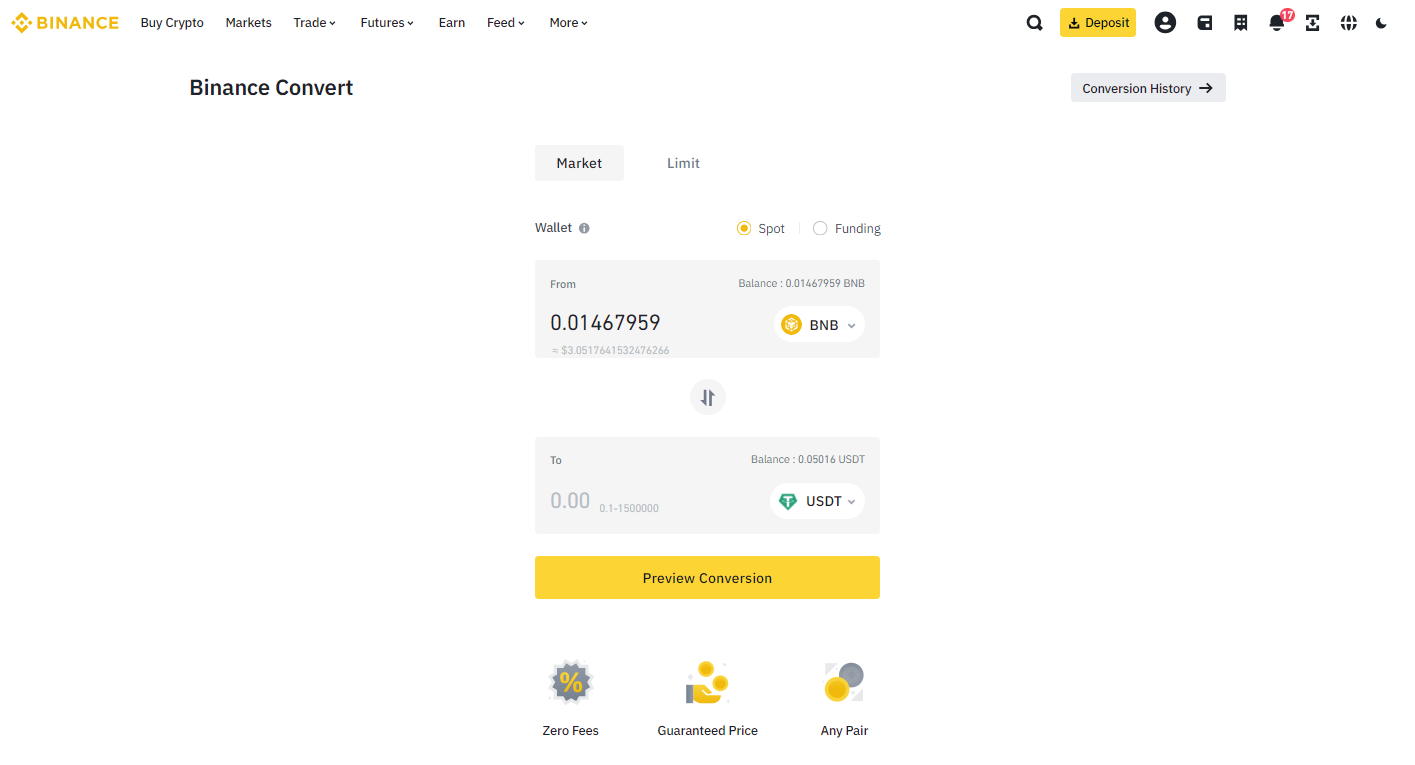 Swap BNB for ETH with Binance Convert
You can also swap BNB for ETH using Binance Convert. Simply navigate through the previously mentioned steps and ensure to select ETH (Ethereum) in the "Select Currency" window during the process. This will enable a straightforward conversion between the two cryptocurrencies.
MetaMask Overview
MetaMask, primarily an Ethereum wallet, offers specific advantages and features that are particularly valuable when it comes to swapping Binance Coin (BNB) to Ethereum (ETH):
Ethereum Compatibility: MetaMask is designed for Ethereum and Ethereum-compatible blockchains. The platform ensures compatibility with Ethereum-based decentralized exchanges (DEXs) such as PancakeSwap and BakerySwap.
DeFi Access: Exchanging BNB to ETH through a DEX allows you to participate in decentralized finance, enjoying benefits such as providing liquidity and potentially earning rewards through performance farming.
Custom Networks: This feature is advantageous if you want to interact with the Binance Smart Chain (BSC), which is where BNB operates. By configuring MetaMask to connect to BSC, you can access BSC-based DEXs such as PancakeSwap for BNB-ETH exchanges.
How to swap BNB for ETH in MetaMask?
Converting BNB to Ethereum (ETH) in MetaMask is a slightly different process. Here's a step-by-step guide:
Connect to Binance Smart Chain: Open your MetaMask wallet and connect it to the Binance Smart Chain network. To do this, add the Binance Smart Chain network as a custom network in your MetaMask wallet (find instructions in our blog).
Choose a DEX: Select a decentralized exchange (DEX) that supports both Binance Smart Chain and Ethereum. Some popular options include PancakeSwap and BakerySwap.
Wallet Connection: Connect your MetaMask wallet to your chosen DEX. Ensure you have enough BNB in your wallet to complete the swap.
Select Trading Pair: Find the BNB-ETH trading pair on the DEX platform.
Specify the Amount: Enter the amount of BNB you want to swap for ETH.
Review Transaction Details: Carefully review all transaction details, including the swap rate and transaction fees.
Execute the Swap: If everything looks good, click "Swap" to initiate the transaction.
Confirmation: Wait for the transaction to be confirmed on both the Binance Smart Chain and Ethereum networks. Once confirmed, you will see the ETH balance in your MetaMask wallet.
The fees for exchanging BNB for ETH on a decentralized exchange will depend on the specific DEX and network congestion at the time of the exchange. DEXs typically charge a small fee for exchanging tokens on their platform, which covers the costs of processing the transaction and maintaining the DEX platform.
In addition to the DEX fee, you may encounter additional network charges, commonly known as gas charges, imposed by the Binance Smart Chain and Ethereum networks to facilitate the transaction. The extent of these charges fluctuates based on existing network traffic and the gas fee selected. It is important to review the transaction details carefully, before submitting the transaction to a DEX.
Converting BNB to USD and Other Currencies – Conclusion
You have now explored the advantages of Binance Convert and the unique aspects of MetaMask for converting BNB to USD and ETH. We hope this guide has equipped you with the knowledge to make your conversions efficient and fruitful.