Before you can start trading and investing on the world's largest crypto exchange, you must complete the
Binance KYC
(Know Your Customer) process to verify your identity. Ensuring the security of your Binance account is paramount. In this guide, we'll provide you with valuable tips and insights to help you breeze through the identity verification process and get your Binance account up and running.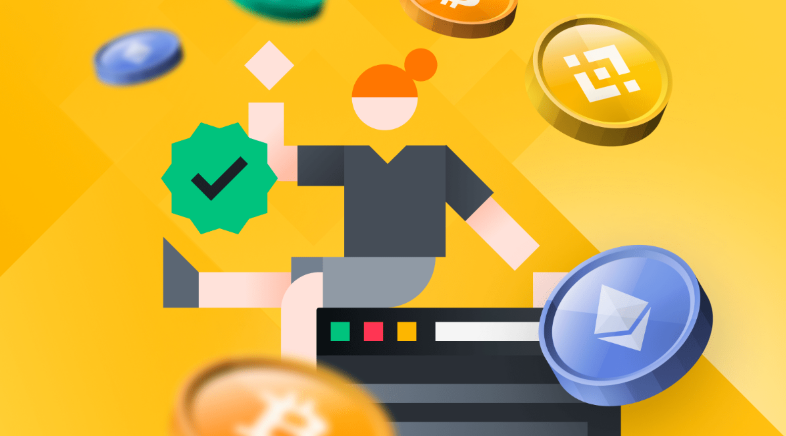 What Is KYC and Why Is It Important for Cryptocurrency Exchanges?
KYC stands for Know Your Customer, a mandatory process conducted by financial institutions, including cryptocurrency exchanges, to verify the identity of their customers. This process involves providing personal information and documents that can be used to authenticate your identity, such as a valid identification document, utility bills, social security number, etc.
KYC is crucial for cryptocurrency exchanges like Binance to comply with laws and regulations and ensure the safety and security of their platforms. In the past, many exchanges did not require KYC information from their users. However, as cryptocurrencies gained popularity and attracted attention from criminals for illicit activities like money laundering, KYC regulations became necessary.
The introduction of KYC regulations in 2001, through the Patriot Act, aimed to combat money laundering and identify any suspicious activities promptly. Cryptocurrency exchanges utilize KYC data to track transaction patterns and prevent money laundering and terrorist financing.
The Role of KYC in Binance Account Security
KYC plays a vital role in protecting your account and the overall security of the Binance platform. By verifying your identity, Binance can prevent unauthorized individuals from gaining access to your account and engaging in fraudulent activities.
Additionally, KYC helps Binance comply with regulations related to account security and customer protection. By implementing robust KYC procedures, Binance demonstrates its commitment to maintaining a safe and secure trading environment for its users.
The KYC Process on Binance
Completing the KYC process on Binance is a straightforward and essential step to access the full range of services and features offered by the exchange. Here's a step-by-step guide on how to complete your Binance verification:
Visit the Binance website or open the Binance app.
Log in to your Binance account or create a new account if you're a new user. For more details, check out our article, "Binance Account: How to Create a Free Account on Binance Crypto Exchange."
Navigate to the "Profile" section and click on "Verification."
Choose the level of verification you want to complete (Basic, Intermediate, or Advanced).
Provide the required personal information, such as your name, address, and identification details.
Upload clear and legible photos of the required identification documents, such as your passport or driver's license.
Follow any additional instructions provided by Binance for document verification or facial recognition.
Submit your application for verification and wait for the review process to be completed.
You will receive a notification once your application is approved, and your account will be verified.
How to Pass the Binance Verification Process?
Binance offers several levels of verification, each with its own set of benefits and requirements.
Basic Binance Verification
It is the first level of KYC on Binance that allows users to access essential features of the platform. To complete basic verification, follow these steps:
Provide your personal information, such as your name, address, and date of birth.
Upload a clear photo of your identification document, such as your passport or national ID card.
Submit the required documents for review.
Once your basic verification is approved, you can start using Binance with certain transaction limits and access to basic features.
Intermediate Binance Verification
Intermediate verification provides users with higher transaction limits and broader access to features on Binance. To complete intermediate verification, follow these steps:
Provide additional information, such as your occupation and source of funds.
Upload clear photos of additional documents, such as a proof of address (utility bill, bank statement, etc.).
Submit the required documents for review.
After successful verification, your transaction limits will be increased, allowing you to trade and withdraw larger amounts of funds.
Advanced Binance Verification
Advanced verification is the highest level of KYC on Binance, offering the highest transaction limits and access to all platform features. To complete advanced verification, follow these steps:
Provide detailed information about your financial situation and trading experience.
Upload additional supporting documents, such as tax returns or bank statements.
Submit the required documents for review.
Tips for a Smooth Binance Verification Process
Preparation and Documentation: Before starting the KYC process on Binance, ensure you have all the necessary documents and information readily available. This includes a valid identification document, proof of address, and any other supporting documentation required by Binance.
Take Clear and Legible Photos: When taking photos of your identification documents, ensure they are clear, legible, and free from any obstructions or reflections. Ensure all relevant information is visible, including your photo, name, and document number.
Ensure Accuracy of Information: Double-check all the information you provide during the KYC process to ensure accuracy. Any discrepancies or inconsistencies may result in delays or rejection of your application.
Patience and Follow-up: The KYC Binance verification process may take some time, as the exchange reviews each application thoroughly. Be patient and wait for the review process to be completed. If necessary, you can follow up with Binance's customer support for updates on your verification status.
Binance Verification – Commitment to KYC
While concerns about privacy and anonymity are valid, Binance has taken significant steps to ensure the security of its KYC system. The exchange has implemented robust security measures to safeguard user data, including encryption protocols and strict access controls.
Binance's commitment to KYC reflects its dedication to maintaining a secure and trustworthy platform for its users. While the process may require some effort and time, the benefits of completing KYC on Binance far outweigh any inconvenience.
Binance also regularly reviews and updates its security practices to stay ahead of potential threats. By prioritizing the security of user information, Binance aims to strike a balance between KYC requirements and the principles of decentralization.
If you're ready to start your journey in the world of cryptocurrencies with Binance, create a free account today and follow the KYC process to unlock the full potential of the platform.
Remember, KYC is an essential part of maintaining the integrity of the cryptocurrency market and protecting users from fraudulent activities. Embrace the KYC process, and enjoy the benefits of a secure and compliant trading experience on Binance.
Visit
CScalp TV
on YouTube to learn more Binance verification tips.