Binance Futures operates independently of the main Binance platform, which means your futures account maintains a distinct balance. If you're wondering how to add money to
Binance Futures
to kickstart your trading journey on this platform, we've got you covered. In this article, we will guide you through depositing funds into your futures account.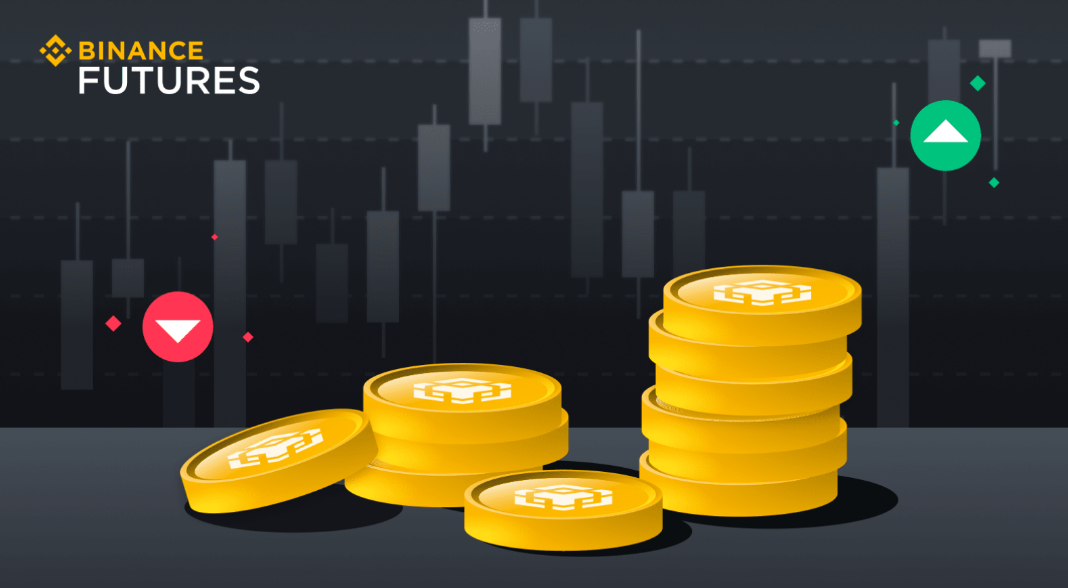 Binance Wallet Structure
Before delving into the deposit process, it's crucial to grasp the structure of your Binance wallet. Unlike traditional financial accounts, Binance segregates balances into distinct wallets, each designed for specific purposes.
Spot Wallet
This wallet is used for Spot trading and holds assets for regular cryptocurrency trading.
Deposits and withdrawals from this wallet are separate from Binance Futures.
Margin Wallet
The Margin wallet is used for margin trading and stores funds associated with leveraged trading positions.
Futures Wallet
The Futures wallet is where you manage your assets for Binance Futures trading.
It's essential to recognize that balances do not automatically transfer between these wallets. If you need to allocate funds for a particular purpose, you must initiate a transfer manually.
Adding Money to Binance Futures: Key Points
Balances in different wallets on Binance do not overlap. If you need to add funds to a specific wallet for a position, you will need to transfer those funds from another account manually. This is especially crucial for margin trading on the Spot market and leveraged futures trading. While you have open positions with contracts, every withdrawal from an account shifts the balance and brings liquidation closer. For more information, check out our article on
how Binance liquidation works on the Futures market
.
Isolated Margin and Cross Margin
Binance Futures platform offers two types of margin modes: isolated and cross. In isolated margin mode, a fixed amount is allocated for each position. If a position starts losing value and approaches liquidation, you can only rescue it by manually adding more funds. Even if there are available funds in your Futures wallet, they won't be used automatically without your intervention.
Cross margin allows you to utilize funds from other positions and the available balance in your Futures wallet to support a position. This happens automatically. If a position starts losing value, it will "borrow" funds from other positions or the overall account balance. As a result, the position is maintained using the total margin balance of the account, which increases risks for other positions.
In the context of withdrawals and transfers, cross margin is riskier. Suppose you have multiple cross-margin positions open. At some point, you urgently need funds for another account and decide to withdraw them from your Futures wallet. Without careful planning, any balance adjustment can put all positions at risk of liquidation. Sudden position declines can lead to swift and unexpected liquidation of the entire account.
Therefore, exercise caution. Before withdrawing from the futures, margin, or options wallet, check all positions and ensure there is enough margin available for them. Verify the margin mode (isolated or cross). Make sure you are aware of the balance of all positions and that withdrawing from the Futures wallet won't jeopardize them.
Transfer Fees on Binance
One of the advantages of using Binance for depositing and withdrawing funds from different wallets is the absence of transfer fees. Binance does not impose any charges when you move funds between your own accounts within the platform. Furthermore, there are no specific limits on the amount you can transfer between these accounts, providing flexibility and cost-effectiveness for managing your assets on the exchange.
How to Add Money to Binance Futures Wallet?
Before you start trading on Binance Futures, initiate the process by depositing either fiat currency or crypto to your wallet.
Depositing Fiat Currency
To deposit fiat currency, access Binance and navigate to the top left corner of the page where you'll find the "Buy Crypto" option.
Select the desired currency and the preferred method for making your initial deposit, then proceed by clicking "Continue." Follow the instructions to complete the transaction.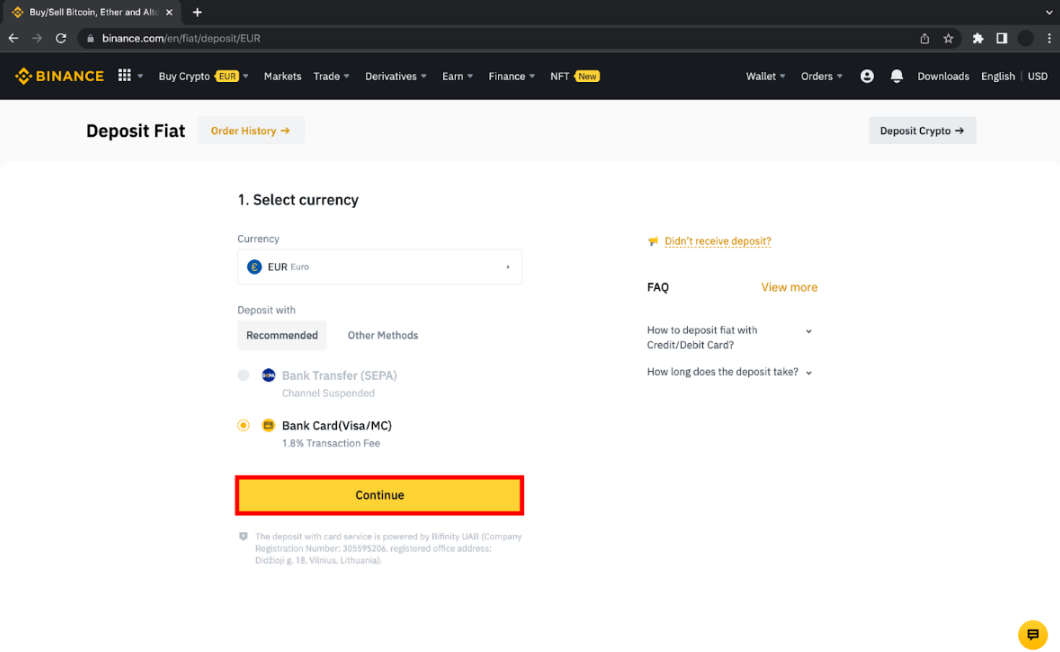 Depositing Cryptocurrencies
To deposit cryptocurrencies, access your Binance account and click on "Wallet" > "Fiat and Spot" located at the top right corner of the page.
Now, click on "Deposit" at the top of the page to begin the process.
Choose the specific coin you intend to deposit into your Binance account. Additionally, select your preferred network if options are available and proceed by following the provided instructions.
Tracking Your Deposit
Upon successfully transferring funds to your Binance wallet, you can monitor the deposit's status through a blockchain explorer, utilizing the provided transaction ID information. Additionally, you'll find details of your incoming deposit within the Transaction History section. Our CScalp
Discord channel
is a great place to find support from the CScalp team and experienced traders willing to help you in this process.
It's essential to remember that to engage in your first crypto derivatives trade, you must transfer your funds to your Binance Futures wallet. Here's how:
Access your Binance account and click on "Wallet" > "Futures."
Click on "Transfer," then select the relevant cryptocurrency. Input the amount you wish to transfer to your Binance Futures wallet and confirm the transaction by clicking "Confirm."
By following these steps, you'll be well-prepared to begin your journey on Binance Futures.
Ready to Dive into Binance Futures?
Now that you're armed with the knowledge of how to add money to Binance Futures account, you're well on your way to navigating the exciting world of crypto derivatives. Don't forget to connect your Binance Futures account to the CScalp trading terminal and achieve a seamless trading experience.
Understanding the distinct wallets within the Binance ecosystem, margin modes, and the importance of careful fund management is vital to your success. As you embark on your journey, always stay cautious and attentive when managing your funds. The cryptocurrency market is known for its volatility, and careful planning can make a significant difference.
So, go ahead and take that first step. Deposit your funds, explore the exciting world of Binance Futures, and start trading with confidence. Your crypto trading adventure awaits!