Are you a trader or investor looking for a comprehensive and user-friendly tool to analyze financial markets? Finviz is a browser-based screener that offers a wide range of features for both technical and fundamental analysis, making it a popular choice among day traders and long-term investors alike. It even includes a
crypto screener
for those interested in the cryptocurrency market. In this article, we will take a closer look at the functionalities of Finviz.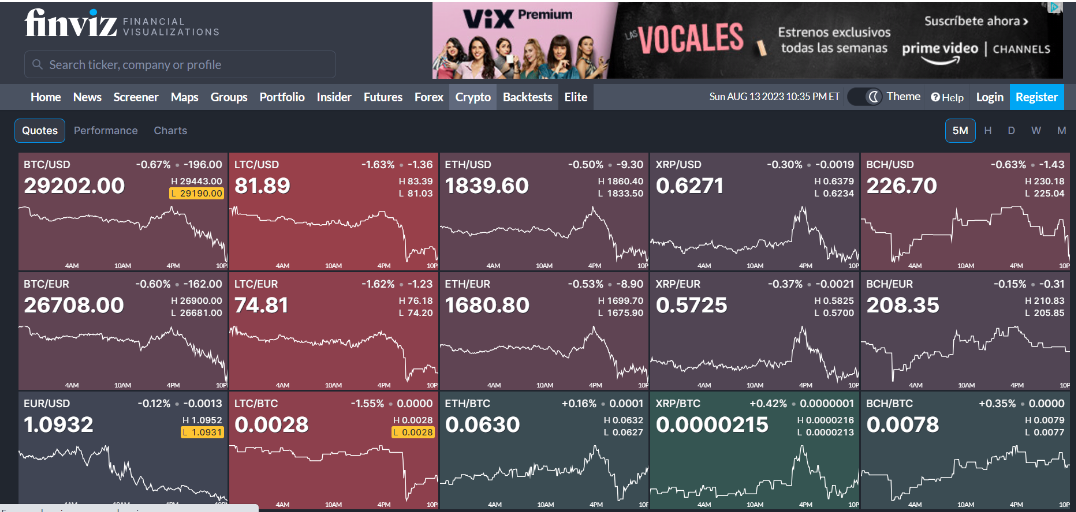 A Brief Overview of Finviz
Finviz is an analytical website that provides information for investors and traders on cryptos, U.S. stocks, futures, currencies, commodities, and indices. It offers automatic filters to help you create a list of trading instruments for further analysis. The website is available in English and offers both free and paid functionalities.
Key Finviz Tools and Features
Finviz's homepage features 11 sections, including a crypto screener, stock screener, real-time market news, financial market maps, portfolio management, and more. The site also provides detailed data for the Dow Jones, NASDAQ, and S&P 500 indices, as well as lists of top-gaining and top-declining companies. With all this information readily available, you can easily stay updated on the latest market trends.
The Power of the Screener
The heart of Finviz is its powerful stock screener. Here, you can track stocks based on specific parameters. The screener covers the NYSE, AMEX, and NASDAQ markets. It's important to note that information for large companies may not update instantly, so while the screener is a valuable tool, it may not be ideal for real-time data analysis.
When using the Finviz screener, we recommend not to set too many filters. Quality over quantity is key for effective filter analysis that aligns with your trading strategy. The screener offers several subsections for stock selection, including Descriptive, Fundamental, Technical, and All. Experienced investors can fine-tune their filters in the "All" subsection.
Finviz Crypto Screener
One of the standout features of Finviz is its crypto screener, which allows you to track and analyze cryptocurrencies in the market. This feature is particularly appealing to traders and investors who are interested in the rapidly growing world of digital currencies. The Finviz crypto screener provides real-time data on various cryptocurrencies, allowing you to filter and sort based on different parameters such as market capitalization, volume, and price changes.
With the crypto screener, you can stay up-to-date with the latest developments in the cryptocurrency market and make informed decisions on trading strategies. Whether you're a seasoned cryptocurrency trader or a newcomer to the market, the Finviz crypto screener offers valuable insights and data to help you navigate the world of digital assets.
For those looking to delve deeper into cryptocurrency trading and analysis, we recommend checking out
CScalp TV
on YouTube. This channel offers a wealth of information, tips, and insights into cryptocurrency trading, further enhancing your knowledge and skills in this exciting and ever-evolving market.
Additional Finviz Functionalities
Finviz also offers a Portfolio section where you can create and monitor your investment portfolios in real time. However, this feature is only available through a paid subscription. The Maps section provides heat maps and an informative overview of individual companies, as well as the entire stock market. Each square on the map represents a company, with the size of the square proportional to the company's market capitalization. The heat maps color indicates price changes, and hovering over a sector displays a list of competing companies and their performance.
If you are interested in futures, Forex, and cryptocurrencies, Finviz has dedicated sections that allow you to track major instruments in these markets. Charts, performance data, and quotes are available for different timeframes, allowing for a comprehensive analysis.
Finviz Cost and Usage
Finviz offers a basic version with no registration required, providing delayed quotes, limited intraday charts, and portfolio tracking. To access advanced features like real-time data, intraday charts, and more filter options, you can subscribe to the full version of Finviz for $39.50/month or $299.50/year.
Finviz vs. CScalp: Finding the Right Tool for Your Trading Journey
In the world of financial market analysis, having the right tools at your disposal can make all the difference. Two popular options that traders and investors often turn to are Finviz and CScalp. While both platforms offer valuable insights and functionalities, they cater to different aspects of the trading journey. Let's take a closer look at the features and benefits of each platform to help you decide which one aligns best with your trading goals.
Finviz: A Comprehensive Market Analysis Tool
Finviz is a browser-based screener that provides a wide range of features for both technical and fundamental analysis. It is particularly popular among traders and investors looking for real-time data, insights, and visualizations for US stocks, futures, currencies, commodities, and indices. The platform's user-friendly interface and automatic filters make it easy to create customized watch lists and analyze market trends. Additionally, Finviz offers a paid subscription for access to advanced features, including real-time data and intraday charts.
CScalp: Navigating the Crypto Market
Whereas Finviz has a wider scope, CScalp focuses specifically on the cryptocurrency market. Our platform provides valuable insights, tips, and strategies for traders interested in navigating the world of digital currencies. With its in-depth analysis of cryptocurrency trends, price movements, and trading strategies, CScalp Crypto Screener is an essential resource for both novice and experienced cryptocurrency traders.
Finviz vs. CScalp: Choosing the Right Tool for You
When deciding between Finviz and CScalp, it's important to consider your trading goals and preferences. If you're primarily interested in U.S. stocks, futures, and a variety of financial instruments, Finviz is a comprehensive platform that offers a wealth of features for market analysis. However, if you're specifically focused on the cryptocurrency market and want to stay up-to-date with the latest trends and insights, CScalp's specialized free service may be more suitable for your needs.
Ultimately, both Finviz and CScalp provide valuable tools to enhance your trading journey. These platforms offer insights and functionalities to help you make informed decisions and navigate the complexities of the financial world.